The 3rd Annual Designer Toy Awards Finalists!
The 3rd Annual Designer Toy Awards Finalists!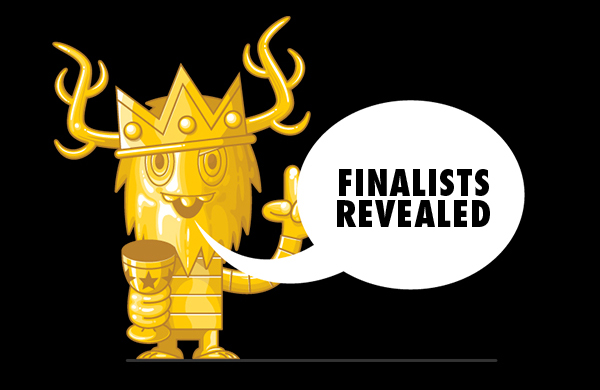 The Finalists in each of the Designer Toy Awards's categories have now been officially announced! Congradulations to one and all. The Winner in each category will be announced at the 3rd Annual DTA ceremony in New York City on October 12th, 2013 (during New York Comic-Con weekend).
While most of the Winners are selected by the DTA Board Members / Judging Panel, there are five categories — Best Blog, Best Collection, Best Toy Store, Best Online Toy Store, and Fan Favotire — which have their winners selected by community voting alone, so please support our industry and share your opinion by voting!
ARTIST OF THE YEAR
Amanda Louise Spayd
Ashley Wood
Doktor A
Frank Kozik
Jason Freeny
Ron English
Simone Legno
Skinner
Tara McPherson
BEST 1/6th SCALE
Adventure Kartel: JC by threeA
The Avengers: Black Widow by Hot Toys
The Dark Knight: Joker 2.0 by Hot Toys
Earthman by Fool's Paradise
Keikotrooper by Fool's Paradise
NY Fat by Michael Lau
Supreme NOM by threeA
World War Robot: Doc Grunt by threeA
World War Robot: Punter Bot Sniper by threeA
BEST BLOG
Jeremyriad
Kaiju Monster
Man-E-Toys
SpankyStokes
Tenacious Toys
Toy Break
ToysREvil
Trampt
Vinyl Pulse
BEST COLLABORATION
Bearycalm by Bubi Au Yeung x Camilo Bejarano
Infected by Scott Wilkowski x Sucklord
Infected Misfortune Cat by Scott Wilkowski x Ferg
Podgonaut by Podgy Panda x Cris Rose
Real Uamou by UAMOU x RealxHead
Skullendario Azteca by Huck Gee x The Beast Brothers
Tolly by Scott Tolleson x A Little Stranger
TroubleBoys by Brandt Peters x Ferg x Playge
Young Gohst by Ferg x Grody Shogun x Playge
BEST COLLECTION
Frank Kozik
Gino Joukar
HiJaak
JazzyDan
Joe La Franza's Team
Sara Harvey
Selim Varol
SilentStage x Army of Snipers Vault
Super Cooper Berella
BEST CUSTOMIZER
64 Colors
Charles Rodriguez
Chauskoskis
Huck Gee
Jan Calleja
Jon-Paul Kaiser
J★RYU
Rsinart
Squink!
BEST DIY PLATFORM
Android by DYZPlastic
The Dude by Dudebox
Fonzo by Freak Store
Jumping Brain by Emilio Garcia x Toy2r
Loose Tea by Lunartik
MAD*L by MAD
Munny by Kidrobot
Trikky by Kidrobot
Unicorno by tokidoki
BEST MEDIA TIE-IN
Astro Boy by KAWS x Original Fake
Bruce Lee's Temple of Kung-Fu, Series 1 by MAD x Round5
Evil Boy by Die Antwoord x Good Smile Company
KISS x Hello Kitty Figures by Funko
Metal Gear Solid: Rex by threeA
Rottweiler Herpes by Johnny Ryan x Monster Worship
Taoking by Geof Darrow x Super7
The Walking Dead: Michonne by Skybound Entertainment
Uncharted Nathan Drake by Erick Scarecrow x ESC-Toy
BEST MINI SERIES
Android, Series 3 by DYZPlastic
Apocalypse Dunny Series by Kidrobot
CAPSL by Jason Freeny x FCTRY
8 Deadly Sins Labbit Mini Series by Kronk x Kidrobot
Ice Scream Man Bite-Size by Brutherford
A Little Misfortune by Ferg x Playge
Lunartik in a Cup of Tea Mini Series 2 by Lunartik
Outlandish Mini Figure Guys (OMFG), Series 2 by October Toys
Unicorno, Series 2 by tokidoki
BEST ONLINE TOY STORE
Dragatomi
Dream in Plastic
Freak Store
Lulubell Toy Bodega
Mintyfresh
MyPlasticHeart
Rotofugi
Tenacious Toys
Toy Art Gallery
BEST PLUSH
Bandit by Blamo
BoBo by Stitches & Glue
Monstroctopus by Love and a Sandwich
Moog by HollowShells
Nosellots by Scott Tolleson
Puffer Puss by Martin Hsu x Lana Crooks
Raar! by Neese x DMS
Rishikesh George by Felt Mistress
Thimbleberry by Amanda Louise Spayd
BEST RESIN
Bad Apple by GOIN x Mighty Jaxx
Groper by Triplikid
Lucius and His First Mustache Finger by Tara McPherson x Vinyl on Vinyl
Mini MAD*L by MAD
Sapling by J★RYU
Spacesuit Panda by Cacooca
Swanicorn by Daniel Fleres
Tuttz by Argonaut Resin
Yume by Plastikmat
BEST SOFUBI
Cadaver Kid by Splurrt
Calaveritas by The Beast Brothers
Calliope Jackalope by Kathie Olivas x Tomenosuke & Circus Posterus
Deadbeet by Scott Tolleson
Debris Japan by RESTORE
Kaiju Negora by Max Toy Company
Pollen Kaiser by PaulKaiju x Toy Art Gallery
Real Fighting Greasebat by Jeff Lamm x Monster Worship
Wooper Looper by Gary Ham
BEST TOY STORE
Dragatomi
Freak Store
Lulubell Toy Bodega
MyPlasticHeart
Rojo Bermelo
Rotofugi
Stranger Factory
Toy Art Gallery
Toy Tokyo
BEST VINYL
Astro Boy by KAWS x Original Fake
Bellicose Bunny by Nathan Hamill x 3D Retro
Chaos Bunny by Joe Ledbetter x The Loyal Subjects
Dragon Boy by Martin Hsu x VTSS Toys
Fonzo by Gary Ham x Freak Store
Monster Toytem by Gary Ham
Pierced by Parra x Kidrobot
Squadt by Ferg x Playge
Target by Luke Chueh x Munky King
BRAND OF THE YEAR
Circus Posterus
Coarse
ESC-Toy
Freak Store
Kidrobot
Medicom
Mighty Jaxx
Playge
threeA
BREAK-THROUGH ARTIST
ArtMyMind
burunDANGA
Carson Catlin
Charles Rodriguez
Doubleparlour
Haus of Boz
Rsinart
Shadoe Delgado
Steff Bomb
FAN FAVORITE
Bad Apple by GOIN x Mighty Jaxx
Deadbeet by Scott Tolleson
Dissected Companion: Resting Place by KAWS x Original Fake
Dust Bunny by Amanda Louise Spayd
Fonzo by Gary Ham x Freak Store
Gummi Bear Anatomy by Jason Freeny x Fame Master Toys
Skullendario Azteca by Huck Gee x The Beast Brothers
Squadt by Ferg x Playge
Swanicorn by Daniel Fleres
OUTSTANDING PRODUCTION
Bad Apple by GOIN x Mighty Jaxx
Dissected Companion: Resting Place by KAWS x Original Fake
Dreamland Mickey by Tristan Eaton x Pretty in Plastic
Lady Butterfly by Lady Aiko x Tomenosuke
Metal Gear Solid: Rex by threeA
No Ordinary Love by Camilla d'Errico x Dark Horse
Pierced by Parra x Kidrobot
Porcelain Kosplay by Ajee x K.olin tribu
The Rise of Pain in Dreams by Course
TOY OF THE YEAR
Astro Boy by KAWS x Original Fake
Bad Apple by GOIN x Mighty Jaxx
Fonzo by Gary Ham x Freak Store
Keikotrooper by Fool's Paradise
Metal Gear Solid: Rex by threeA
Mini MAD*L by MAD
Pierced by Parra x Kidrobot
Skullendario Azteca by Huck Gee x The Beast Brothers
Squadt by Ferg x Playge