3rd Annual Designer Toy Awards Trading Cards!
3rd Annual Designer Toy Awards Trading Cards!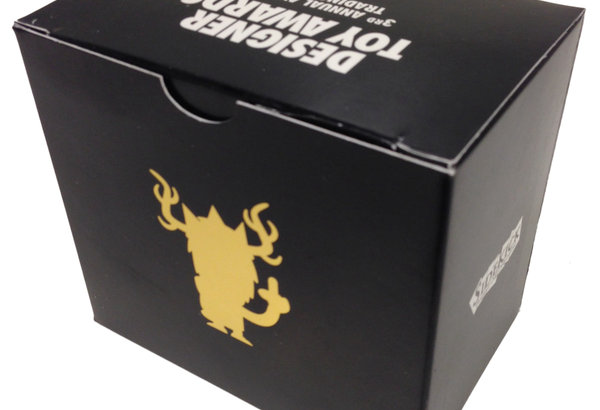 This year's Designer Toy Awards will have an added component of fun, thanks to our partnership with SideKick Lab: a trading cards series!
With 177 base cards revealing most of the finalists in the 3rd Annual Designer Toy Awards, there are also 27 variant cards as well as signature cards and Golden Ticket Redemption Cards! What sort of Golden Tickets are available? Everything from original art to one-off Designer Toy editions, prints to hand-painted custom figures, and even a complete trading card subset pack!
Each pack will cost $5 apiece and contain 8 random cards, though the true collector will definitely want one of the only 100 made Factory Sets, which include all the following in a special foil-stamped box for only $85:
All 177 base cards in the series;
all 27 variant cards in the series;
one random signature card;
one Golden Ticket Redemption Card; and
we'll even hand you one of the promo only Hello Kitty x KISS cards!
Available throughout the 2013 New York Comic Con at:
Clutter Magazine's Booth #504 and
SideKick Lab's Booth #203.
These will also be available at the 3rd Annual Designer Toy Awards ceremony itself, taking place on the night of Saturday, October 12th at Hudson Terrace NYC (621 West 46th Street, New York, NY 10036), with doors opening at 8PM. Tickets to attend the ceremony are currently on sale here: https://shop.cluttermagazine.com/collection/designertoyawards