Available @ DTA's - Mikie Graham's Jumping Brain Customs
Available @ DTA's - Mikie Graham's Jumping Brain Customs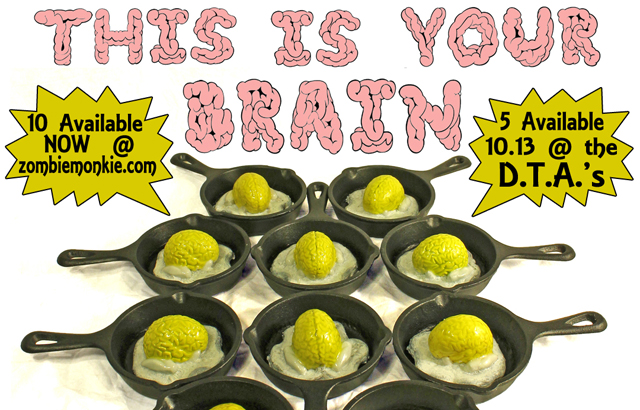 This past July at San Diego Comic-Con, Mikie Graham released an edition of 10 Mini Jumping Brain customs based on the '80s anti-drug campaign "This is your Brain on Drugs" and all of them sold out in a snap! Due to the great response Mikie has decided to cook up one more batch of 15 brains for all the folks who missed out.
Out of the 15 customs, 5 will be going to NYCC and will be available for sal at the 2nd Annual Designer Toy Awards Ceremony, taking place on October 13th, at Providence NYC.
The remaining 10 Eggs have just been put onto Mikie's web store and are now available. Retailing for only $45 this remaining batch of 15 eggs are sure to fly.
So if you like these mini '80s flashbacks, make sure to attend the Designer Toy Awards this October or hit up the Zombiemonkie.com web store ASAP, as Mikie warns that 4 of 10 have already been spoken for!