Clutter Magazine Issue 16 Pre-Order!!
Clutter Magazine Issue 16 Pre-Order!!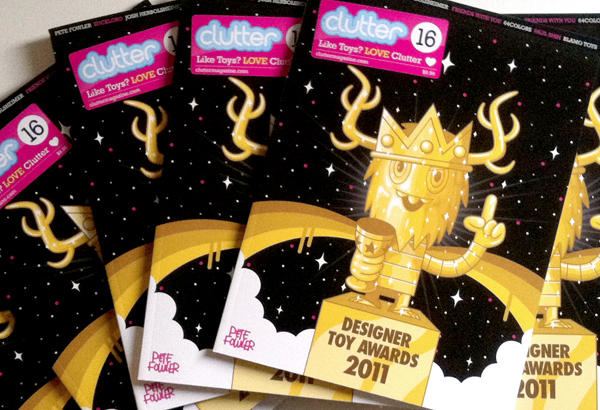 We are kicking off 2012 in style with issue 16 of Clutter! Holla!!! Issue 15 saw us hit the ground running with a new format, and we absolutely love it - so of course we kept it ;)  The mag will start shipping early next week, but can be purchased now for preorder from our store. 
Issue 16 features artist interviews, stories, editorials, and an awesome Designer Toy Awards 2011 winners review. The cover of this brand spankin new issue was created especially for us by Pete Fowler! Hope you guys love the Issue 16 as much as we do!  
Contents include:

:: Pete Fowler

:: The DTA's 2011

:: Sucklord

:: 3D Printing

:: Blamo Toys

:: 64 colors

:: FriendsWithYou

:: Paul Shih

:: Josh Herbolsheimer

:: The Fort
Details: 72 pages, full color. 8.125 x 10.875 inches.

Cover Price: $9.99
Shipping starts NEXT WEEK here!