Designer Toy Awards Announces New Board Members!
Designer Toy Awards Announces New Board Members!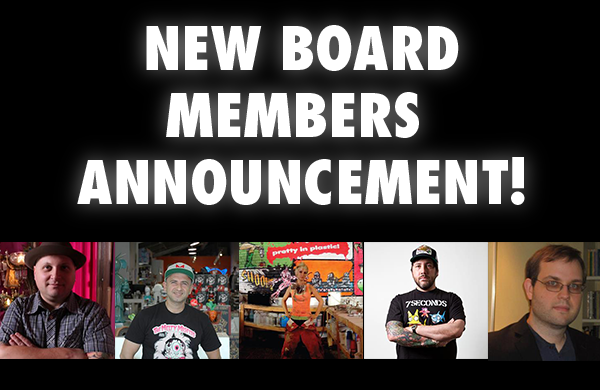 Just in time for voting in the 3rd Annual Designer Toy Awards (DTAs), we're proud to announce several new additions to the DTA Judging Board. We are delighted that these distinguished and knowledgeable members of the art and toy community accepted our invitation to join our prestigious board, whose votes decide the winners of the awards in the majority of categories.
Please join us in welcoming these new members, who will continue the legacy of representing the diverse voices of the Designer Toy industry within the Board of the DTAs.
Jonathan Levine
Galley Owner - Jonathan LeVine Gallery

As a youth in the 1980s, LeVine recognized the appeal of countercultural aesthetics including punk flyers, comics, graffiti, and tattoos. Beginning in 1994, LeVine became an independent curator, organizing exhibitions at punk and alternative rock venues in the NY/NJ area, such as: CBGB, Webster Hall, Max Fish, and Maxwell's. By promoting these visual art forms through group shows in venues that were home to their musical counterparts, LeVine gave a home to this nascent art movement early on. In February 2001, LeVine opened his own gallery Tin Man Alley in New Hope, Pennsylvania. The gallery relocated to Philadelphia in late 2002. In January 2005, LeVine renamed and moved his gallery to the epicenter of the contemporary art world, Manhattan's Chelsea district. Jonathan LeVine is pleased to continue cultivating new and long-standing relationships with featured artists and active collectors through his program at the gallery, participating in art fairs, and presenting special exhibitions in international locations.
Gino Joukar
Toy Store / Gallery Owner - Toy Art Gallery

Longtime collector and art enthusiast Gino Joukar founded Toy Art Gallery in 2009. He now shares his passion for art and toys through TAG, producing toys and sculptures with a variety of artists and putting on monthly art shows celebrating the toy art scene.
Julie B.
Art Manufacturer / Fabricator - Pretty In Plastic

Julie B is the founder and owner of Pretty In Plastic, a multidisciplinary production and art fabrication company that can handle pretty much anything you can imagine. The Los Angeles-based company has spent the past seven years establishing their expertise in helping artists bring their visions into 3D, and is an industry leader in toy couture, limited edition art multiples, pop art projects, installations, and nearly unlimited forms of fabrication. Pretty In Plastic works closely with an impressive roster of artists and entertainment industry clients to produce objects and areas that immerse the viewer in the artist's vision. Their state-of-the-art workshop features the latest in prototyping technology and fabrication equipment, as well as a small army of girls in neon jumpsuits wielding power tools. If you can dream it, Pretty In Plastic can build it.
Greg Rivera/Mishka
Brand Owner -  Mishka

Greg Rivera, also known as Greg Mishka, draws a little weird severed head with an arm that he calls "Lobster Roll." He was born in Bridgeport Connecticut, which is oddly appropriate since the PT Barnum Museum is located there and any space that Greg inhabits immediately starts to resemble that museum's basement. He has the world's largest Mr. T collection and it would be easy to write off Greg as an insane hoarder, except that everything he owns is valuable and precious. Greg is addicted to beauty; he consumes more art, culture, and sublime beauty in a year than most humans will know in their whole lives. He digests it and regurgitates it back into the world's gaping maw. Greg co-founded streetwear / youth culture brand Mishka in 2003.

Zack Smith
Writer 

Zack Smith is a writer and journalist based in Raleigh, NC. He has written about toys for multiple websites, including MTV Geek and Indy Week. He has also published several comic book short stories.