DTA Short List Announced.
DTA Short List Announced.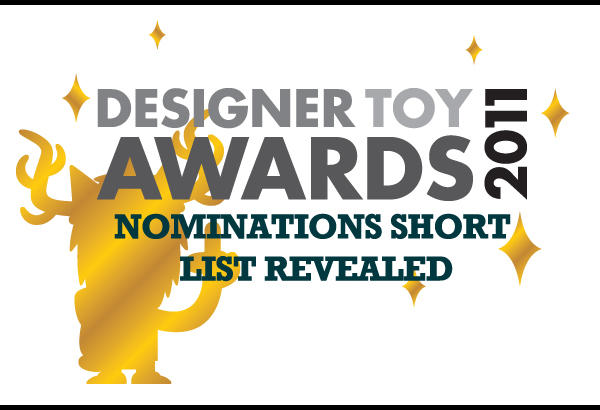 We are less than a week away from the main event, The Designer Toy Awards ceremony live at Munky Kings Black Ball, SDCC, so we thought it was time we narrowed down the field and released the top five shortlisted nominations in each category. Congratulations to our top 5 nominees in each category, we received a lot of votes and the fight for the top slots was fierce.
Toy of the year

3A Toys Popbot figure

Caleb by James Jarvis

Jaws by Coarsetoys

Kaws 4ft Companion

O-No Sushi by Andrew Bell
Manufacturer of the Year

Circus Posterus

Gargamel

Kidrobot

The Loyal Subjects

Three A
Lifetime Achievement

Dov Kelemer

Frank Kozik

Israel "Lev" Levarek

Jim Crawford

Michael Lau

Outstanding Production

Dievas Dunny by Nathan Jurevicius and Kidrobot

False Friends (In Pain Edition) by Coarse Toys

Frank Kozik Ultraviolence

Super 7 Jumbo Stormtrooper

Toy Tokyo x Secret Base x Ron English X-Ray

McSupersized Figure

Best Customizer

Chris Ryniak

Doktor A

Jason Freeny

The Beast Brothers

Walter Jacott aka Chauskokis
Best Mini Series

Elements Alpha

Jibibuts Wooden Minifigures

Mechtorians by Doktor A

Resound Field Guide

Tic Toc Apocalypse by Amanda Visell

Best Self Produced

Boss Carrion by Paul Kaiju

CAMO jumping Brain

Hermees by Gary Ham

Moon Fox by Sergey Safonov

Shawnimals, Ninja of the Month
Best Collaboration

Ferg x Brandt Peters - Trouble Boys

Google x Andrew Bell - Android

Itokin Park x Amanda Visell, Bed Monster

Kaws x Sorayama Campanion

The Hundreds x Garfield


Best Licensed Product

Android by Andrew Bell

James Jarvis - Hello Kitty

Manny Pacquiao by Mindstyle

Pinocchio & Jiminy Cricket by Kaws

Super Shogun Stormtrooper by Super 7

Best Plush Design

Cavey by Holly Stanway

Pecan Pals

Plunk and Pop Lion by Anna Chambers

Sir Artichoke by Lana Crooks

Thanks, Grandma by Amanda L Spayd

Best Functional Toy

Incubot's Voltron USB Drive

Marka 27's Minigods

Maywa Denki's Otamatone

Mimobot by Mimoco

Tokidoki Frenzies

Break Through Artist

Incubot's Voltron USB Drive

Marka 27's Minigods

Maywa Denki's Otamatone

Mimobot by Mimoco

Tokidoki Frenzies

Best 1/6th Scale

3A popbot Tomorrow King

Crazymichael by Michael Lau

Fighting JC by Ashley Wood

Hot Toys War Machine

Playge Rat by Ferg

Most Influential Event

CE Design Contest

Designer Con

I love Munny

San Diego Comic Con

The Vader Project

Best DIY Platform

CE: Creative Enhancement

MAD*L

Mini Munny by Kidrobot

Omi by Munky King

Qee by Toy2r

Best Toy from a Comic

Kill Audio by Vinyl Cut

Skull Bunnies

Stitch as Deady by Voltaire and Mindstyle

Tomorrow Queen by Ashley Wood

Zombie Chuck by Brian Fyffe

Best Collection

Carl Aka "Mutonisyourfriend"

Gino Joukar

Kinohi aka "HaynMade"

Sara Harvey and Jason Foster

Toybreak's George and Ayleen Gaspar

Best Online Toy Store

Bambaland

Lulubell

Myplasticheart

Rotofugi

Tenacious Toys

Fan Favorite

Android by Andrew Bell

Blankie: Series 1

Micro.Mundos

Soopa Marias by Erick Scarecrow

Tuttz New Year Edition by Eric Nocella

Diaz / Argonaut Resins
Best Blog

Kaiju Chronicle

Spanky Stokes

The Blot Says

Toysrevil

Vinyl Pulse

Artist of the Year

Ashley Wood

Chris Ryniak

Kronk

Paul Kaiju

Scott Tolleson

Best Toy Store

Freak Store

Kidrobot

Munky King

Rotofugi

Super 7
You can find out more information about The Designer Toy Awards here.
Winners will be announced at the The Designer Toy Awards 2011 ceremony will be Hosted @ Munky King's: The Black Ball, Thursday July 21st. 9pm - 2am
Bar Basic

410 10th Ave

San Diego, CA, 92101


Space will be limited. The general public will be served on a first come first served basis.