DTA WINNERS!!!
DTA WINNERS!!!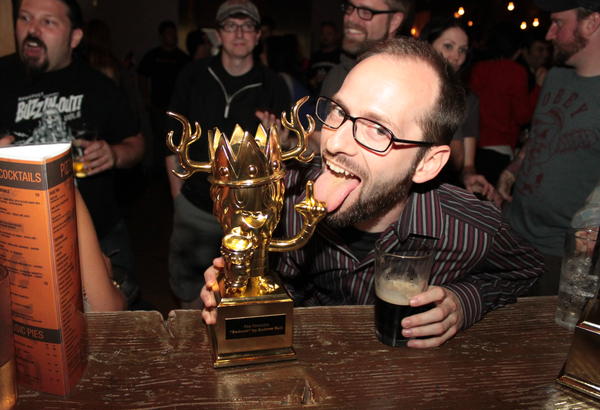 Last night, Munky Kings Black Ball, saw the first annual Designer Toy Awards!! Excitment was high, and not only amongst Clutter staff but Artists, manufacturers fans and press outlets alike. Bar Basic was cram packed fulled with revelers, unfortunatley leaving a line of people outside who couldn't get in. Winners were all selected throguh a demecoratic process of public voting and board voting. Congratulations to all of our winners and nominees. Everyone who takes part in the Toy Scene is equally deserving and awesome, and we applaud everyone who makes this makes the world go round.
Without Further ado the winners are:
Artist of the Year

Ashley Wood
Toy of the Year
"4ft Companion" by Kaws
Best Blog

TOYSREVIL
Fan Favorite
"Android" by Andrew Bell Best
Online Toy Store

www.rotofugi.com
Best Toy Store

Rotofugi
Best Collection

Carl "MutonIsMyFriend" Kent-Smith
Best Toy From a Comic
"Kill Audio" by Vinyl Cut
Best DIY Platform
"Mini Munny" by Kidrobot
Most influential event

San Diego Comic Con



Manufacturer of the Year

threeA


Lifetime Achievement

Michael Lau


Break Through Artist

Jason Freeny
Outstanding Production
"False Friends (In Pain Edition)" by Coarse Toys
Best Customizer

Doktor A
Best Mini Series
"Tic Toc Apocalypse" by Amanda Visell


Best Self Produced
"Hermes" by Gary Ham


Best Collaboration
"Trouble Boys" by Ferg x Brandt Peters


Best Licensed Product
"Super Shogun Stormtrooper" by Super7
Best Plush Design
"Plunk and Pop Lion" by Anna Chambers
Best Functional Toy
"Mimobot" by Mimoco

Best 1/6th Scale
"Playge Rat" by Ferg
We'll be posting up event pics as soon as we can wade through the masses of pictures we have! Stay Tuned!