Sucklord Hosts the 2012 Designer Toy Awards x Exclusive
Sucklord Hosts the 2012 Designer Toy Awards x Exclusive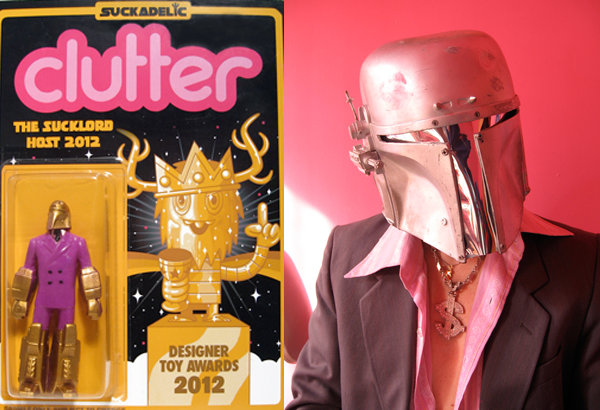 With the Designer Toy Awards event approaching fast, we are super excited to begin releasing special details about the Awards Ceremony on October 13, 2012 in New York City. With that said, we are proud to announce the host of this year's event: The Super Sucklord!
New York City based pop artist The Sucklord manufactures bootleg DIY toys and action figures through his widely known and loved company, Suckadelic. His hand-made style and techniques have become iconic and his figures are highly collected. He is a life-long fan of all things Star Wars, and is recognized for creating his own satiric take on Star Wars Collectables and Music.
Recently, The Sucklord reached a new level of fame appearing as a contestant on Bravo's "Work of Art: The Next Great Artist." He is best known for his "You Suck" attitude and we can't wait for him to bring that to the DTAs and stir up the crowd.
"As host of the second annual Designer Toy Awards,I promise to be biased, corrupt, and possibly drunk, as I mock the entire process. With tyrannical precision I promise to keep shit moving, entertain your sorry ass, and actually speak into the microphone. It will truly be a night to almost remember..." - Sucklord 
In conjunction with hosting the Designer Toy Awards Ceremony, we will be releasing an Exclusive Clutter x Designer Toy Awards figure, "The Sucklord Host 2012". This awesome figure will be available EXCLUSIVELY at the Designer Toy Awards, on Saturday the 13th of October 2012. Details on Run, and Price will be announced closer to the event.
*Prototype image. Subject to change*
As you know, the official finalists were announced during SDCC, and again congratulations to our finalists. Voting is now open at www.designertoyawards.com. You can vote for your facorties once per day, per category, so make those votes count. Public voting will end Septemnber 1st 2012 at 12pm EST.
Support your community and join in. 
Look out fore more exciting announcements coming your way soon!
- The Designer Toy Awards Team