VOTING is now OPEN for the 7th Annual Designer Toy Awards!
VOTING is now OPEN for the 7th Annual Designer Toy Awards!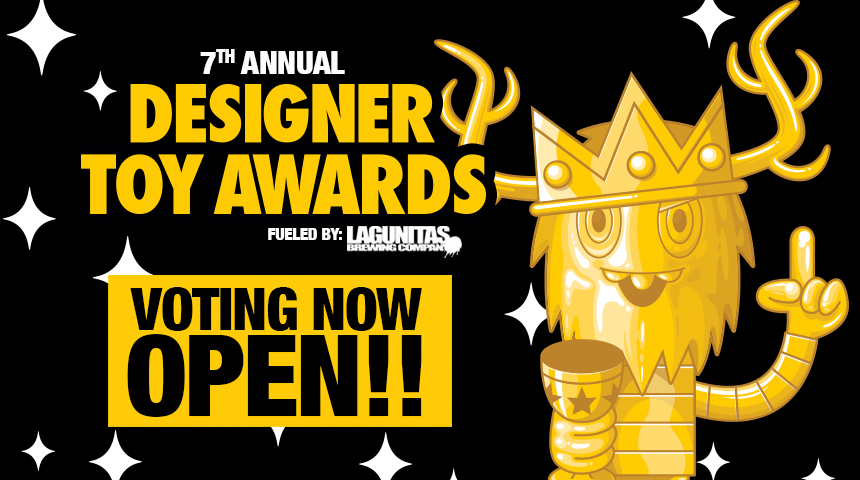 Thank you everyone, for all of the amazing nominations for the 7th Annual Designer Toy Awards! Our nomination committees worked tirelessly to whittle down the 100's of nominees into the top 9 for Panel Voted, and top 12 for Public voted awards. It's been a labor of love for the committees who have worked tirelessly to discuss daily, each entry and every category in depth! Believe us when we tell you that this process is not for the faint hearted!

We would like to take this opportunity to sincerely thank our committees for all their hard work, they really go above any beyond for this process

Pro Committee: Huck Gee, Dov Kelemer, Kirby Kerr, Benny Kline, Travis Lykins, Gary Rozanski, John Stokes, Vincent Yu, Keegan Rooney, Kyle Kirwan, David Schlesinger and Jason Freeny.
​
Public Committee: Justin Cheah, Lee Funai, Ketha Insomphou, and Rob Lumino.
Together, they created our Shortlists of 2017! Congratulations to all the finalists!
And now it is up to you–yes, you!–to vote on the best of 2016!
 
Voting in the DTA public categories is easy as cake. Just follow these steps:
Log in or create a new account on the site.

Vote once in each of the six awards under Public Voting.
 
Tada! You've voted! Simple as that.
Public voting remains open until Wednesday, May 3rd, 12 (noon) est! So hurry and submit your votes before it's too late!
Happy voting!
Please note that voting more than once in each category, even if you've created multiple accounts, is grounds for all your votes being removed and, potentially, the party you're voting for being disqualified.